Orthofeet manufactures advanced footwear, biomechanically engineered to provide unsurpassed comfort and ultimate protection, offering the state-of-the-art design for a variety of footwear categories: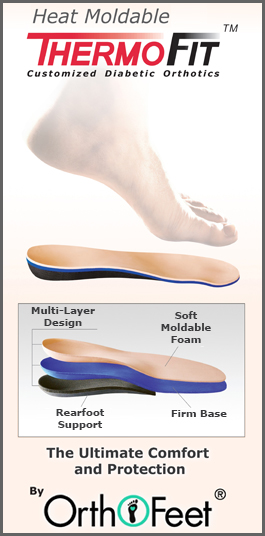 The Orthofeet Advantage
Protective Lining - Soft, seam-free lining design with extra foam padding eliminates pressure points, and offers unsurpassed comfort and protection. [More...]
Performance Insoles - Designed with anatomical arch-support and contoured heel-seat to help relieve heel-pain and foot discomfort - making every step you take soothing with comfort. [More...]
Cushioning Soles - Light weight soles with Ergonomic-Stride™ design soften step, and help propel the foot forward. [More...]
Soft, Non-Binding Uppers - Non-binding design along with elastic uppers offer a relaxed fit and eliminate pressure points. [More...]
Tie-Less and Two-Way strap systems - offer a fast and easy method of fastening and unfastening the shoe. [More...]
Recommended For The Following Foot Conditions: General Foot Pain and Fatigue, Heel Pain, Arch Pain, Plantar Fasciitis, Ankle Pain, Flat-Feet, Pronation, Metatarsal Pain, Mortons Neuroma, Bunions, Corns, Hammer Toes, Diabetic Feet, Arthritic Feet, and Back Pain.